Like everyone else, I've been reading about the flooding in Queensland and feeling so saddened by the terrible struggles the people there are facing. It is simply lovely that Toni from Make it Perfect is organizing a Queensland Flood Appeal Auction. She's asked bloggers to put up products they've made for auction.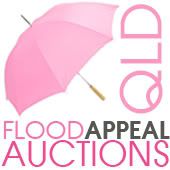 On Monday, she will have a master list up at her blog of people who are running auctions. The auction will run through January 24 to allow plenty of time for bidding. Each blog participating runs its own auction, so if you are interested in my auction, you will bid here.
Here's how it works:
1. Bidding will start at $25.
2. You can place a bid by leaving a comment on this blog post with your bid amount and email address. Please make sure that your bid is higher than the previous bidder.
3. Your bid must be in whole dollar increments.
4. This auction is open to everyone. I will cover postage.
5. The auction begins NOW and will END at midnight on Monday 24th January 2011.
6. At the close of the auction, I will contact the winner (please make sure your bid comment includes your email address or that it is published in your profile so that I can contact you). The winner will pay the winning amount directly into the Premier's Flood Relief Appeal and send me proof of payment via email. Once proof of payment has been received, I will post your book and mini quilt.

I am auctioning a copy of my book, Miniatures in Minutes, along with a quilt from the book.
You can choose either of the two following quilts. Simply tell me which one you prefer.
The first option is "Mittens and Bows." It measures 12 3/4" by 12 3/4".
Or, if you prefer a reproduction style, you could choose "Dargate Ribbons" (11" by 12 1/2").
Thank you for participating and happy bidding!